Making the Everywhere Workplace Possible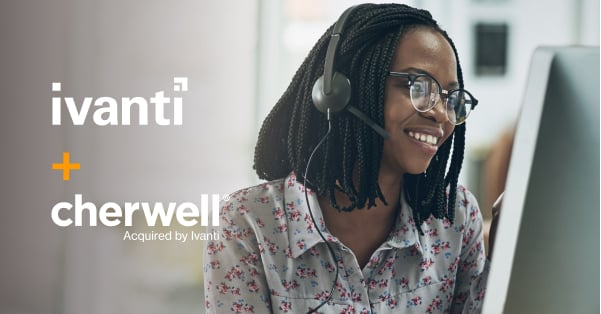 Ivanti Has Completed the Acquisition of Cherwell
Cherwell is now part of Ivanti, and together this combined offering enables end-to-end service and asset management from IT to lines of business (LoB) and from every endpoint to the IT edge. Read the press release.
Read the frequently asked questions for further information.
Get the inside scoop on how Cherwell solutions fit in Ivanti's product range
Video message from Mary Trick, Executive Vice President and Chief Customer Officer sharing Ivanti's commitment to long-term support for all products.
With any acquisition or merger, it's what emerges that matters most. By bringing Cherwell into the Ivanti portfolio, we expect to expand our reach to further innovate and differentiate at the intersection of Unified Endpoint Management (UEM), Security, and Enterprise Service Management or ITSM.
This merger allows us to combine the best-run companies with the brightest people into a single, best-of-both IT management solution, and integrating over time the best capabilities from both solutions. And Neurons, our hyper-automation platform, connects our UEM, Security, and ITSM solutions and provides a single pane of glass for enterprises to self-heal and self-secure devices—and self-service end users—proactively, predictably, and autonomously.
In addition to the press release and FAQ links above, we've prepared the following resources to help keep our Cherwell customers informed and feeling welcome.